We Offer Site Layouts and Construction Staking
Beginning a construction project in Monterey involves much more than selecting a location and starting to build. It is a very detailed process that includes calculating positions and elevations, recovering and evaluating boundary and project survey control, and working with the building or engineering contractor to furnish the most efficient and usable set of reference points for the project. With over 35 years of experience, we at Central Coast Surveyors are skilled in the art and science of construction surveying and bring needed proficiency to each project we take on.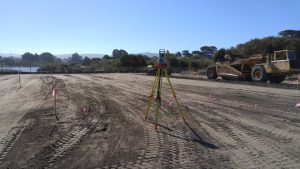 When you hire Central Coast Surveyors for your construction staking needs, you receive these features:
All project calculations performed by a Licensed Land Surveyor
Expert analysis of the design data, with an eye toward mitigating any design issues before they become a problem.
Fast, accurate field staking services – usually with less than 24 hours notice
Every field crew is staffed by a Licensed Land Surveyor
No minimum daily charge
Clear and understandable staking diagrams
Your Best Value in the Area
Located in Monterey, Central Coast Surveyors is proud to serve the entire Monterey County area. In business since 1993, we bring a wealth of experience to each construction project and perform the necessary tasks quickly and accurately. Give us a call today at 831-394-4930.